Monday, February 28, 2005
Pays de Galles
For the first couple of weeks Caitlin had been quite content to have a feed then relax for a good few hours, so that we were on
approximately
a five-hour cycle. However, whether because of our more irregular hours at the weekend or not, she seems to have shifted gears in the last day or so into wanting something closer to a three/four-hour cycle. The upshot of this being that I spent the early mornings over the weekend downstairs settling her, while Anna got some well-deserved rest upstairs in bed. However, every cloud has a silver lining as the
Super 12
rugby season started here this weekend, so late night (muted) repeats of the games were the order of the day. Even better, Caitlin managed to wake up perfectly in time for me to catch the second half of the France vs Wales fixture live (at around 3-30am Sunday morning here) - I'm fairly sure that Caitlin was asleep well before the final whistle, but for some reason I couldn't tear myself away. Chris
posted at 9:58 pm 0 comments
Friday, February 25, 2005
Maternity Over
There is no requirement for companies in Australia to give fathers any parental leave, so I'm lucky that my company does give us one week of paid leave, plus I've taken one additional week of holiday. However, now Anna is close to 100% mobile again, it's time for me to return to the workforce next week - hope I can remember how to do it! Before then, we are invited to the annual Pimms & Grits party on Sunday afternoon, so we'll need to plan our time carefully; especially as Anna has her orchestra rehearsal in the evening. Although we've still got plenty to learn, I think we've managed to establish some sort of routine over the last week or so - in summary, we do what Caitlin wants when she wants, and when she doesn't get it she screams... Chris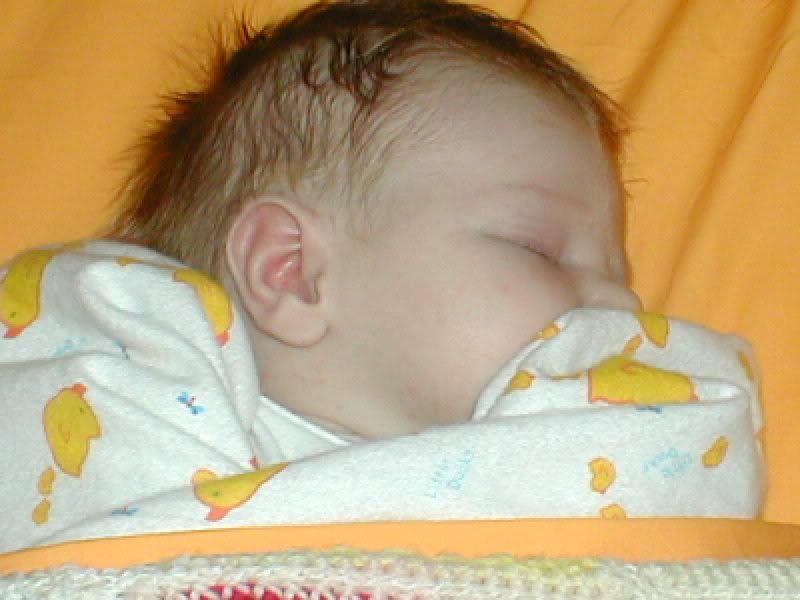 posted at 11:13 pm 0 comments
Thursday, February 24, 2005
Mosman, here we come
We decided to attend the weekly hash run this evening, which started from
Mosman
and made its way out to
Balmoral Beach
before looping back to the start. It was nice to catch up with our friends, and have them meet Caitlin, as well as confirm arrangements for the
AGPU
trip up to Wisemans Ferry in a couple of weeks time. Being new to this parent business, having a target appointment for the evening meant that we had to plan feeds such that Caitlin would be reasonably settled whilst we were out - this went well, and she was very well behaved, but I think we might have struggled if we didn't have chance to plan our schedule in advance. Finally, we also received confirmation that the pram is now on its way to us, so hopefully we'll be able to take it out for a test run in the next couple of days. Chris
posted at 10:09 pm 1 comments
Wednesday, February 23, 2005
Who's a healthy baby?
Lynn, hope I spelt that right, visited us today from the Early Childhood Development Centre to discuss their services and perform a general check-up. She seemed very happy that everything was progressing well, and confirmed that a couple of our minor concerns were just that (minor and nothing to worry about). She also weighed Caitlin using one of the least accurate looking set of scales I've seen - the result, for what it's worth, implied that Caitlin has regained her birth weight, which is a good sign that she is feeding well. With confidence instilled Anna headed out for the first time by herself with the baby and did a little bit of music shopping - trying, but unfortunately failing, to find recordings of the music she is rehearsing with the sinfonia. She did however manage to find a large piece of carrot cake - however, this turned out to be a belated Valentine's Day present for me - result! Chris
posted at 9:33 pm 0 comments
Tuesday, February 22, 2005
City Trip
The members of our local hash chapter, the
Sydney Thirsty hash
, were kind enough to club together to get us a David Jones giftcard for Caitlin. So, today we decided we'd risk a trip into the big city to see what goodies we could find. The main thing that we wanted to get, as we realised that we needed something to put Caitlin in when she's relaxing downstairs, was a rocker and we ended up with one like
this
as well as a few other bits & pieces which were all covered by the giftcard. The trip into the centre of Sydney went very well, and we were only mobbed once by a gang of well-wishing ladies to coo over the baby. Tomorrow, Anna is having one of the midwives from the local Early Childhood Development Centre visit, to do a post-hospital review and make sure everything is progressing well. These centres are sponsored by the NSW government, and provide a variety of childcare services such as organising vaccinations etc - so hopefully everything will go smoothly. Chris
posted at 10:11 pm 0 comments
Monday, February 21, 2005
Chillin' @ Home
Although we've spent a fair bit of the weekend at home, we have also been out-and-about to ensure that nobody goes too crazy, so we all:
Went out for a drink at The Welcome Hotel with some friends, including Robbie and Robin who were visiting from New Zealand, on Saturday
Went for a stroll around Balmain, to test out the sling that we bought in Balmain market months ago - Caitlin seems to like being carried in a sling, so this will probably be the main mode of transport for the next couple of weeks whilst awaiting the arrival of the pram
Anna also attended her orchestra rehearsal on Sunday evening - she got a special mention from the conductor for making it back so soon
This morning we received more cards & gifts from the UK - thanks again for all of these, the mantlepiece is filling up very nicely. Thank you to Nana Claire and Grandad Len for the lovely mobile, Caitlin seems to like this very much, and so did Anna who nearly cried - again! Caitlin seems to have settled into her change in accommodation pretty well - we weren't sure if she might feel a little
lost
in her cot, but she seems pretty happy there (when she's had plenty to eat). Chris and Anna (about time!)
posted at 6:26 pm 0 comments
Friday, February 18, 2005
Home Driver please
After six days, today was the day that we finally got to pack Caitlin up and bring her back home. Although the hospital (especially their lactation consultant) has been great, I think it will do us both good to re-enter familiar surroundings. Having not been outside the hospital in that time, Anna was also a little emotional as we dressed Caitlin in her going-home gear and packed her up in the capsule. We got back around 4pm, and after a little unpacking it was time to give Caitlin her first bath at home - I thought I had everything prepared, but little did I know that she had a surprise in store for me. Just as I was manoeuvering her into the bath, the floodgates opened and I was the victim of what I think the IRA used to call a
dirty protest
. Ho hum, the first of many I'm sure... Chris
posted at 9:38 pm 2 comments
Thursday, February 17, 2005
Relaxing Dinner?
As part of the standard procedure, the
hospital Anna is staying at
serves dinner for the recent Mums & Dads on the last night of their stay. The idea seems a good one, in that it's a chance to have a little bit of time to yourselves, but the only problem is that they specify that you should make it to your table between 6pm and 6-30pm. For us first-time parents, this was more like a diminishing window rather than a nice opportunity - but we did make it to the table around 6-20pm, and we weren't the last ones there either! After a fretful night, my job today was to organise the capsule to transport the baby back home in tomorrow - fortunately, I managed to make it to the store and back without slumping over the driving wheel with fatigue (it's a wonderful thing caffeine). Chris
posted at 11:03 pm 1 comments
Wednesday, February 16, 2005
Got Milk?
As the parents amongst you will know, it typically takes a few days for Mum's milk to
come in
after the birth; until this occurs the baby has to make do with
colostrum
which, although very good for her, is pretty limited in supply. The good news for Caitlin was that the milk float pulled into town today and, as a result, she has had a more settled day with plenty of sleep between feeds. Hopefully, for Anna's sake, that will continue tonight and allow
her
to get a good sleep. Chris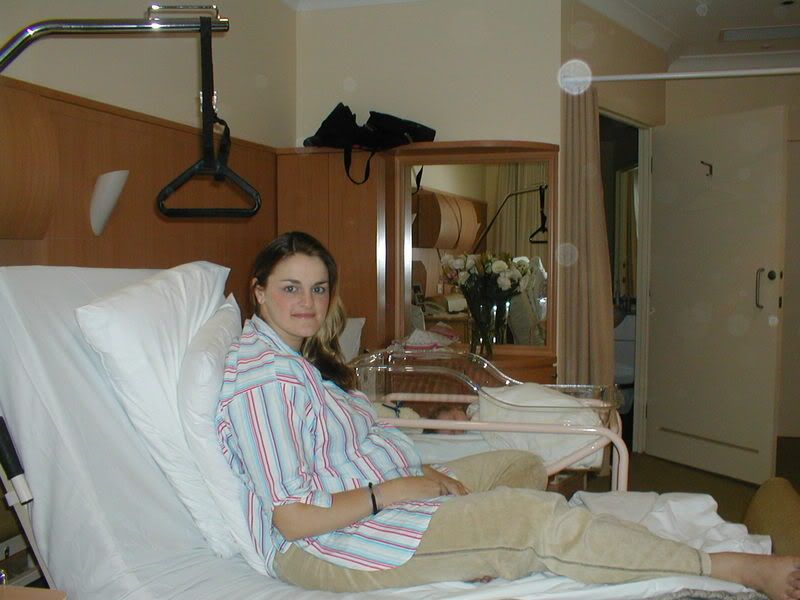 Click picture for more
posted at 11:21 pm 3 comments
Tuesday, February 15, 2005
A Day of Firsts
It was a day of firsts for us all today:
Caitlin had her first bath, she seemed entirely comfortable with the idea of having someone else glide her around and do all her washing - now that her hair is a little less gooey, it looks like she visited the hairdresser before she came out as she seems to have some fair tints in there also
Anna went out and about for a walk around the ward to attend a

baby-settling techniques

class - it was good for her to get more mobile again after surgery, each day now should hopefully get her feeling a little bit more normal again
Finally, it was the first time I can remember buying a big box of nappies from the supermarket - time for me to sort out the last few bits & pieces before Anna & Caitlin come home on Friday
Thanks once again for all the comments & best wishes! Chris
posted at 11:22 pm 0 comments
Monday, February 14, 2005
Birth Plan?
First of all, thanks for everyones best wishes - Anna & I are delighted, but your notes of encouragement are very welcome! So, what happened? Well, the run-down goes something like this:
On Saturday morning Anna's contractions increased in strength and regularity, but Caitlin was still not descending in the uterus, so we made a visit to the hospital that afternoon just to make sure that the baby wasn't in any distress - this went well, and we were sent home after a couple of hours
On Sunday morning Anna's waters broke and, once we were sure that was what had happened, we were on our way to the hospital again
Our obstetrician was quickly on-hand, he had apparently expected us sooner, and suggested that we try something to increase the strength & frequency of the contractions to see if Caitlin would descend or not
After trying this for a little while it became clear that she wasn't going to come down, and was apparently in a little distress (as her heartbeat decreased following contractions)
We discussed the situation with the obstetrician again and he advised us to proceed with a Caesarian, as he felt that she might not respond well to a prolonged labour
Within a matter of minutes the operation was organised, and we were on our way to the operating theatre
After more injections than she'd care to remember, Anna was swabbed down, the surgeons started talking about golf, the incision made, and the baby delivered (7lbs 6oz @ 2pm)
After a quick cuddle, Anna was taken to the recovery room, while Caitlin & I got to know each other (I was under strict instructions not to take my eye off her for a moment)
An hour or so later, and we were all re-united in the room we'll be in until Friday
I think we were both glad that we hadn't been
too
committed to any specific birth plan, as we had to react to the sequence of events quite quickly, and being flexible meant that we could just focus on doing what was best for Mum and baby. Phew! Chris
posted at 11:43 pm 1 comments
Sunday, February 13, 2005
Welcome Caitlin!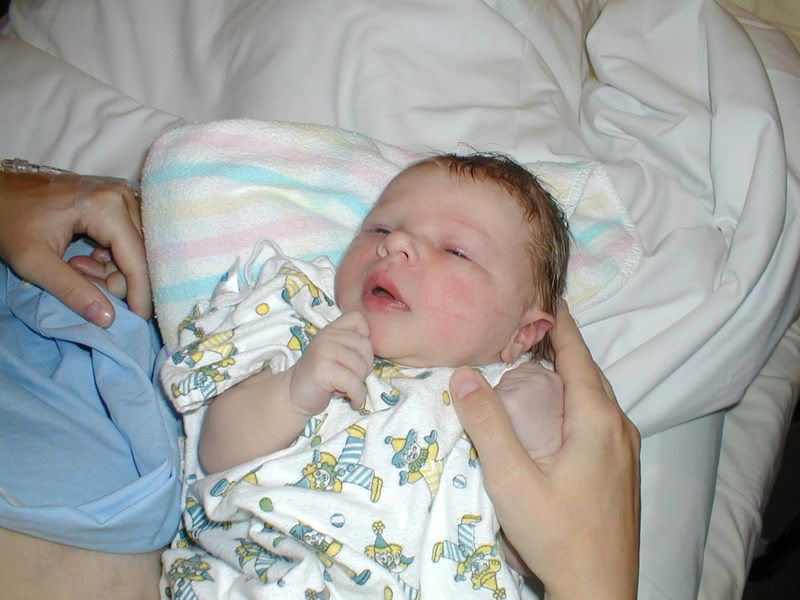 Chris
posted at 11:52 pm 8 comments
Friday, February 11, 2005
Last Hash
Anna & I were out with our local hash last night, for a very scenic jaunt that started from
McMahons Point
, went around
Lavendar Bay
, under the Harbour Bridge, then into
Kirribilli
before returning via North Sydney. Anna took a modified route around Lavendar Bay with one or two other hashers and, despite her condition, was still going up-and-down a few of the many hills in the area. After our exertions, and receiving the good wishes of many of the people there, we headed up to the
Blues Point Hotel
for a bite to eat before making our way back to Balmain. Unless circumstances dictate otherwise, I think we're scheduled to go round to a friends on Saturday evening, followed by a relaxing Sunday - but we'll see what (if any) plans the baby has for us! Chris
posted at 3:57 pm 0 comments
Thursday, February 10, 2005
And the doctor says
Anna & I visited the doctor just after lunch today, and had a good discussion about how things are progressing. In summary:
He checked Anna's blood pressure and the baby's heartbeat - both fine
He then performed a physical examination, and advised that Anna's cervix has dilated a little (to 2cm) and seems to be softening, although it still has a little further to go
He also swept Anna's membranes in the hope of stimulating labour
He had provisionally booked Anna in to be induced on February 17th, but had done so primarily to reserve us a place in the hospital, but we don't have to take this option if we prefer not to
He did, however, recommend that we organise an induction if (and only if) nothing has happened in another weeks time, as the risks for the child then increase
We're pretty comfortable with his advice, but are hoping that nature will take its course before we get to the 17th. Chris
posted at 4:42 pm 0 comments
Wednesday, February 09, 2005
Nothing Yet
For those of you following closely, you'll know that today is the due date for the baby but, as I haven't heard anything from Anna, I don't think today is going to be the day. However, we still have quite a bit of time before the baby is considered to be overdue, as this is
not considered to be the case
until the end of week 42. We have another appointment scheduled with the obstetrician for tomorrow afternoon, at which point we're anticipating that he will raise the possibility of inducing labour but, after some consideration, we're agreed that we don't want to take this option unless there is a medical reason to do so. That said, I think we're both keen to hear his opinion once he has conducted an examination, possibly including some membrane sweeping, before reaching any final decision. If you haven't done so already, now is the perfect time to start your
betting pool
for the date of the birth. To give what advice I can, my brothers and I were all born past our due date, averaging at around 10 days after - so put me down for the birth being on February 15th. Chris
posted at 2:51 pm 0 comments
Tuesday, February 08, 2005
*uckoff
I'm out of the office on a training course today and the next couple of days, so not quite as easy access to update the 'blog. One thing I forgot to mention about the weekend was that, on Saturday morning, we woke to find a
small
amount of graffiti had been written on one of our exterior walls. After some initial concern, we also noticed that various other properties nearby had also had the same treatment, which was something of a relief to know that we weren't being targeted. On Sunday, Anna & I bought a local product,
Muckoff
, to see if this would help shift the stuff. Fortunately, it did the trick very nicely and after only 20 minutes or so we were done - however, a good part of that twenty minutes was spent discussing the issue with our neighbours who, as soon as they saw us, were out to have a chat. Apparently, there used to be a problem with grafitti some years ago, but this is first they have seen in a couple of years - so, hopefully, it will be a one-off that we won't have to worry about again. Chris
posted at 5:42 pm 0 comments
Monday, February 07, 2005
Sunny Days
A sun-filled weekend saw:
Us head out for Waitangi Day celebrations with our local hash on Saturday - this involved a good run around the eastern suburbs of Sydney, washed down with some specially catered New Zealand beer. The new mother, Meg, was there with her baby boy, now named Robert, who was remarkably well behaved.
A walk around Balmain on Sunday, to help Anna overcome the on-set of some

real

contractions - although they haven't started to occur regularly just yet.
Anna attend the first of the sinfonia rehearsals for their next performance, while I watched the replay of the Six Nations rugby.
Chris
posted at 1:30 pm 0 comments
Friday, February 04, 2005
It's here!
No, not the baby, she's not
due
until next week - but thanks to Ash for sending through his own tips on induction. No, as I mentioned yesterday, Anna & I visited San Francisco last March on our way to go snowboarding/skiing in Colorado, and while we were there we purchased a dress at the local
Nieman Marcus
. Well, after nearly a year and a very circuitous trip around the world, it finally arrived in Balmain today - thanks to my ex-
Ariba
colleague, Marci, for arranging the final part of the trip. As it has taken such a long time to get to us, Anna had feared that she would never see it again but, thanks to the persistence of the sales assistant in San Francisco, it has finally made it. Of course, when we ordered it Anna wasn't even pregnant, so the dress won't fit for a little while! I tried in vain to find a picture of it on-line, but if you can imagine the whole dress being like the skirt in
this picture
, then you'll get an idea. Chris
posted at 1:56 pm 1 comments
Thursday, February 03, 2005
Tour de force
Anna visited the obstetrician today and, once again, was found to be in good health - the only slight concern was that the baby has apparently not progressed much further down. So, I may suggest that we try one of
these techniques
to bring on labour naturally - I'll let you guess which one I'll be voting for! Mentioning KTVU yesterday, reminded me that I hadn't uploaded our photos from when we were in San Francisco last March. Somewhat predictably, there are lots of shots of the Golden Gate bridge, but click the picture to take the full tour: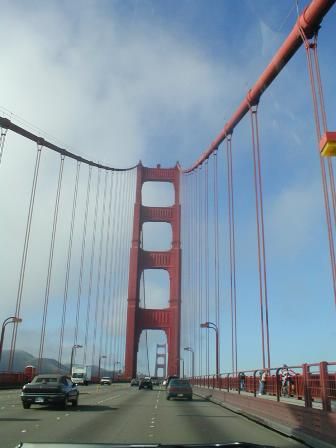 Chris
posted at 3:15 pm 0 comments
Wednesday, February 02, 2005
Outfoxed?
With us having now reached the T-1 week mark, Anna decided we should go out for a meal last night - using the
"we won't be going out much once the baby's born, so we should go out now"
technique. So,
with the proviso that we weren't allowed to go to the Indian Palace
, off we went to the
even closer
Blue Ginger. After a very tasty meal we were back in time to catch
Outfoxed
, the
documentary
surrounding the journalistic nature of the
Fox News
station in the US. Those of you who know me will probably have heard me lament the typical news coverage in the US:
The ten-o'clock news, on KTVU, when I lived in San Francisco scheduled international news (on an hour long programme) for between 25 and 27 minutes past the hour
But the coverage of Fox News shown, albeit obviously edited to make the point, really was quite amazing - recommended watching if you haven't seen it. Chris
posted at 3:46 pm 0 comments
Tuesday, February 01, 2005
Pinch-and-punch myself
I realise that this will seem like I'm stating the obvious, but today is the first day of February! I guess that may not seem like a major revelation in itself, but somehow that fact helps me to realise just how close we are to having our lives change. I'm pretty confident that Anna is keen for it to change as the weather, although not
very
hot, has been muggy and humid for a couple of weeks now, which aren't the ideal conditions to be heavily pregnant in! With the holidays and Australia Day behind us, all the television networks are vying for the returning audiences, with this week seeing a string of new shows. First up (for us at least) last night, was
Desperate Housewives
which appears to
have been as popular here
as elsewhere in the world. From what I can make out, it is somewhere between
Twin Peaks
and
Melrose Place
- one of which I enjoyed, the other not so much - but I'll guess we'll see how it progresses. Chris
posted at 3:51 pm 1 comments