Thursday, March 31, 2005
A-running we will go
We were out in the
Erskineville/Newtown
area for the run tonight, which was a quick dash around the back streets. Caitlin, whilst in her pram, decided that she'd have a good crying fit - hopefully, getting this out of the way to avoid any incidents in the church tomorrow. Anna also dropped into the Early Childhood centre earlier, to have a chat with the midwives there, who have organised for her to join one of their mother-and-baby groups starting from next week. Although we already know a couple of recent mums in the area, this should be a good opportunity to meet some more people with babies a little closer to Caitlin's age. Chris
posted at 10:06 pm 0 comments
Wednesday, March 30, 2005
PD visit
Anna & Caitlin visited the paediatrician today, and after the various checks he declared that he was very happy with Caitlin's progress to-date. He also re-weighed her (minus all her clothes) and she came in at 4.1kg (I'll leave you to do the math if you want to know how many pounds that is). Anna then visited another recent mum friend of ours, Alessandra, to see her and Aran before they head back to Italy for a few weeks. We're also starting to dig out our good clothes for the wedding on Friday - hopefully it will be a sunny day for our friends,
Juliet & Mike
. Chris
posted at 9:55 pm 0 comments
Tuesday, March 29, 2005
OB - all clear!
Anna had her six-week check-up with our obstetrician, Dr Brieger, today and was given the all clear after the usual round of blood pressure and heart rate monitoring. What with the hospital routine and the medical examination for our permanent residency application, Anna must have had her vital signs checked more times in the last six weeks than in the entire rest of her life! She also has an appointment with the paediatrician tomorrow, so hopefully Caitlin will prove to be equally healthy. Meanwhile, I finally got all the documents together for Caitlin's passport application. They say that it normally takes around 4 weeks to process, so it should be back with us in plenty of time for our trip back to the UK. Chris
posted at 9:31 pm 0 comments
Monday, March 28, 2005
Egg-tastic
It was a relaxing Easter weekend for us:
Shoe shopping for Anna - for the wedding we're going to next week
Clothes shopping for Caitlin & I
Eating lots more chocolate than necessary
We were both a little last-minute with our purchasing of Easter eggs, so we decided to share a
big dude
, big enough that Caitlin almost fit completely inside! Chris
posted at 9:18 pm 0 comments
Friday, March 25, 2005
Brrr!
Those of you who have ever lived in the UK will know that, at some point of the year, there will be a front-page headline which reads something like
Brrr!
- in recognition of the fact that winter always seems to catch the British by surprise. True to form, Anna & I hadn't really thought about winter clothing too much then, the last couple of days, we've had chillier days & nights (it's all relative, a chilly night here typically means it goes below 15 degrees). Since most of the clothing we had bought Caitlin was intended for warmer weather, we had a look through some of the things that we had been sent by people from the UK - lo and behold, a range of full-body suits that were perfect for the cooler weather (thanks again). Of course, with her new autumn range appearing, it was excuse for some more photographs! Chris
posted at 9:17 pm 0 comments
Thursday, March 24, 2005
Tunked Up
Anna & I attended our local hash group again this evening, and just as we were about to head off on the run, Caitlin figured it was the perfect time to produce her biggest
delivery
to-date. The run itself started off in a somewhat less than scenic spot, but went through
Tunks Park
which was much more so. With the nights coming in now, and the clocks going back this weekend, I need to remember to take my torch with me - I did this week, but since I was the only person that did in the group of ten I was running with, I had to spend much of my time lighting up the way for everyone else. Some running friends of ours, Juliet & Mike, are getting married on April 1st and also announced that they
are
going to be having hen & bucks nights. Not sure if we are going to make it to those, but we are invited to the wedding, which should be a really nice occasion as they are getting married at
Garrison Church
before heading over to
Taronga Zoo
for the reception. Chris
posted at 10:29 pm 0 comments
Wednesday, March 23, 2005
Are you safe?
Now that Anna is no longer pregnant, it was time to complete one of the last remaining hurdles between us and our application for permanent residency being processed. The various pieces of documentation have now all arrived, and the final two things we need to do are:
Have a medical examination, and
Obtain Caitlin's British passport
So, today we had a family appointment at the clinic to undergo inspection. The set of tests is more extensive for permanent residency than for other temporary visas, the check-list went something like:
Urine test
Eyesight test (corrective equipment permitted)
English reading ability test (I unintentionally launched into the paragraph as though it were a bedtime story - hope they didn't mind)
X-Rays to make sure we don't have Tuberculosis
HIV blood tests
Blood pressure taken
Eyes, nose and throat inspections
Some strange check, that only seemed to involve checking that we had legs
Although they aren't permitted to give us the results of their tests, the general indication was that there was nothing that should cause any concern.
Afterwards I went off to work, while Anna visited Meg to compare babies. I wasn't there to confirm it, but Anna thought that, even though she was born later, Caitlin is much the same size as Robert - although apparently not as well behaved yesterday, as she was crying quite a lot after the exertions of the tests in the morning.
Chris
posted at 10:32 pm 0 comments
Tuesday, March 22, 2005
New Year
Tonight was the first committee meeting of the new hash year, so we were discussing the possible events that we want to organise. We have a couple of things in mind, but the first one to come around looks like a weekend-away in
Bundanoon
to have a Xmas-in-June celebration - fortunately this will be after Anna & Caitlin have returned from the UK. While I was at that meeting, Anna was organising a meeting of her own to visit our friend Meg tomorrow. Meg was due to give birth the day before Anna, but ended up having her son, Robert, two weeks early - so it will be interesting to see he and Caitlin compare. Chris
posted at 10:25 pm 0 comments
Monday, March 21, 2005
Perfect Day
First up on Saturday, we visited the
Sydney String Centre
to get a mute for Anna's violin, as one of the pieces that she is playing with the Balmain Sinfonia for the
next performance
requires their use. Whilst we were there, we also got a CD of some Mozart pieces designed for babies. I had forgotten exactly what time the Wales vs Ireland encounter was scheduled for (it turned out to be a 4am kick-off local time), so I was particularly relieved when I was sent downstairs to settle Caitlin in the early hours; it was about 4-10am and the score was 3-3. Caitlin was off to sleep in around half-an-hour, so I took her back upstairs to her cot and snuck back down to watch the conclusion of the game. As it was around 5-30am when the game finished, I couldn't do much shouting, but there was plenty of (quiet) punching of the air! On Sunday proper, we went for a good walk around the Bay Run, as Anna is keen to start doing some exercise again after her caesarian. She's not supposed to do anything strenous until after her six week check-up, so no running until then! Chris
posted at 8:45 pm 0 comments
Friday, March 18, 2005
Fuftieth
Anna & I had lunch in the city this afternoon, we ate in a cafe close to Town Hall and I saw the people at both tables next to us trying to get a peek at Caitlin. Anna was using the sling to carry Caitlin, as she felt more comfortable using that than the pram on the bus, and it's funny how some people don't even realise that you're carrying in a baby in there. Best wishes to a good friend of ours,
Henry
, who turns fifty today! He has plans to spend most of Saturday in various bars, so I don't think
we'll
be joining him on his cruise around town, but I'm sure plenty of other people will. Chris
posted at 8:46 pm 0 comments
Thursday, March 17, 2005
Chalk, what chalk?
Anna & I took Caitlin to
Manly
this evening, to attend the St Patricks Day hash with our local group. The nights are starting to draw in a little now, that combined with a little rain meant that it was very tricky to see the markings for the trail. Since I'm now the
Trail Master
I had the advantage of having a map, and got to see people running off in the wrong direction quite a few times before I called them back. Afterwards, it was into the
Steyne Hotel
for a bite to eat, but as we were driving back we couldn't take advantage of the four-pints-for-a-hat promotion on the Guinness. Chris
posted at 11:46 pm 1 comments
Wednesday, March 16, 2005
One-nil
For the first time thus far, we actually managed to have Caitlin sleep from around midnight through until 7am! We had noticed over the past few days that her sleeps were starting to get a little longer when she was going down at around 8pm - so, with a gentle push, we managed to feed her again at around 10pm. All seemed to be lost when she thrashed around for a good while afterwards, but when she finally did settle at around midnight she went right through until the morning. Our favourite baby book,
Baby Love
, (which has proved to be a really helpful reference) suggests that this technique can be very hit-and-miss; so we'll see how things progress. Chris
posted at 11:14 pm 0 comments
Tuesday, March 15, 2005
Danger in the Water
As part of my new venture to take the ferry to/from work more often, I managed to catch the ferry again this evening. However, as we approached the harbour bridge, the ferry suddenly sent the engines into reverse - all became clear a moment later, as we had apparently narrowly missed another boat coming from the other direction. What followed might best be described as
water rage
, as the captain of the ferry decided to pass on his years of experience to the offending passer-by who, true to the spirit of the situation, responded with a shrug of his shoulders followed by a two-finger salute! Once I got home the theme continued as, while I was giving Caitlin her bath, she managed to dislodge the bath plug and send water shooting across the floor. Fortunately, the bath is positioned such that there are tiles below, and we could easily mop up the spillage - but I'll have to watch out for her antics more closely from now on. Chris
posted at 10:06 pm 0 comments
Monday, March 14, 2005
Weigh-in
Since I've been a little lax about doing a
big shop
recently, we decided to make sure that we went and stocked up on Saturday, so that Anna has plenty of supplies if Caitlin decides not to cooperate. Whilst we were out doing this, Anna also popped into one of the local chemists to have a weigh-in (something which chemists do quite happily here); and the new contender came in at 8lbs 9oz. On Sunday, it was Caitlin's one month birthday, so we went out for lunch to
The Royal Oak
after a quick stroll down to our local park: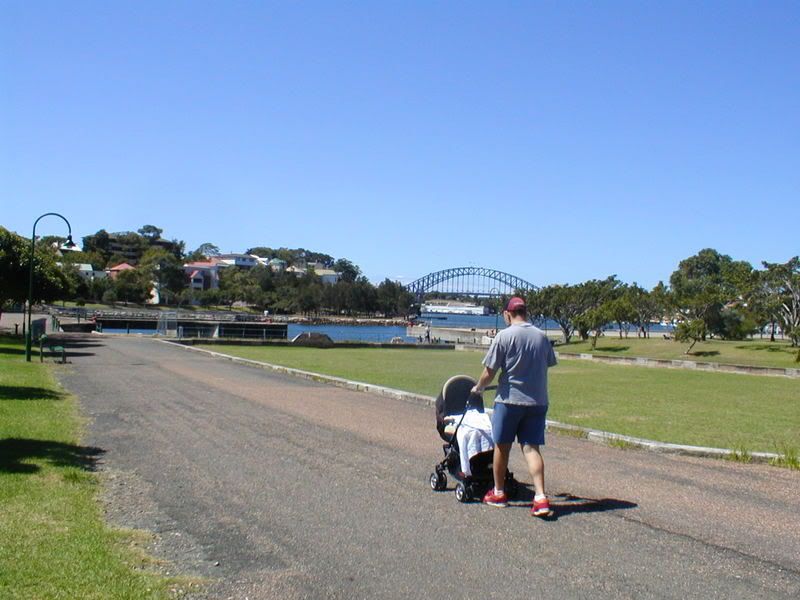 It's been pretty muggy for the last few days, especially at night, which has meant that Caitlin has been a little reluctant to settle down for her sleep - so I've been forced to watch more coverage of the Six Nations. Yes, I know that Wales haven't won anything in more years than I'd care to admit, but that's precisely why it's such a joy to see them do well for a change. Chris
posted at 9:28 pm 0 comments
Friday, March 11, 2005
Bath time
Having left work slightly later than planned, I decided to take the ferry home again this evening. As I mentioned yesterday, I haven't been using the ferry much over the last couple of weeks (though I'm not sure why), but I'm definitely going to make an effort to do so more - when you've got a panorama like
this one
, it's a shame not to make the most of it. Even better, I got home just as Anna was finishing a feed, so around 10 minutes after I got through the door, it was time for an evening bath; not for me of course, but Caitlin. I know it's
a little
early to be doing so, but I also know that my Mum will be very pleased to hear that I've already started reciting times-tables to her when she is in the bath - that was how my brothers and I were all taught them. Anna, probably quite correctly, can only gasp in despair when I do this - but Caitlin seems happy enough. Chris
posted at 10:36 pm 2 comments
Thursday, March 10, 2005
Let me eat cake
Roisin, a local friend, called Anna to ask if it was OK to pop round - as soon as Anna had said
Yes
, she appeared with lunch & dessert all ready to go - dessert being a large brioche meaning that there would be plenty left over to snack on later! As a Mum herself, Roisin obviously realizes that the best things that friends can do when they visit is to pamper the mother; and Anna was delighted. In the evening, I was out performing my duties as
Trail Master
for a somewhat less scenic run around
Alexandria & Waterloo
. On the way back home after the run, I caught the ferry for the first time in a couple of weeks and was reminded just how nice it is to travel around Sydney this way. Even though it was 9-30pm, it was still warm enough to sit outside and enjoy the breeze as we cruised under the Harbour Bridge on the way back to Balmain. Chris
posted at 11:21 pm 0 comments
Wednesday, March 09, 2005
Baptism
We received a call from Anna's father this morning, regarding some additional details for the Baptism, which prompts me to remind everyone of our plans. Assuming that Caitlin doesn't demand too much of her time, Anna is planning on sending out invitations in the next couple of weeks - and (without giving the game away) you can pretty safely assume that if you were invited to the wedding, then you will also be invited to the Baptism. Details, such as they are, being:
Afternoon of Sunday, May 15th at Clive All Saints Church (where we were married)
Probably have some nibbles/food in the village hall nearby afterwards
We hope to see as many of you then, if not before. Chris
posted at 10:35 pm 1 comments
Tuesday, March 08, 2005
Twinkle twinkle
One of our nearby friends, Alessandra, visited yesterday with a present for Caitlin - a musical moon which plays
Twinkle Twinkle Little Star
- which was very kind of her. She was also keen to point out how much Caitlin has grown in the 2 weeks since she saw her last - we both thought that she had grown, but it's more difficult to tell when you see her everyday. The cards still seem to keep arriving, thanks again, so I'm seriously thinking of renting an additional mantlepiece for everyone's best wishes (well, not really). A couple of people have also mentioned in their cards that they have decided not to post things, and to give them to us when we return in May - just wanted to re-assure everyone that this is fine with us. Chris
posted at 10:26 pm 0 comments
Monday, March 07, 2005
AGPU over and out
Back home again after the AGPU, and we all had a very enjoyable weekend. We started off on Saturday morning for the drive up to Wisemans Ferry. Towards the end of the journey there we had to cross the Hawkesbury river on a strange-looking ferry, that essentially drags itself from one side of the river to the other using guide-ropes and on over-worked winch.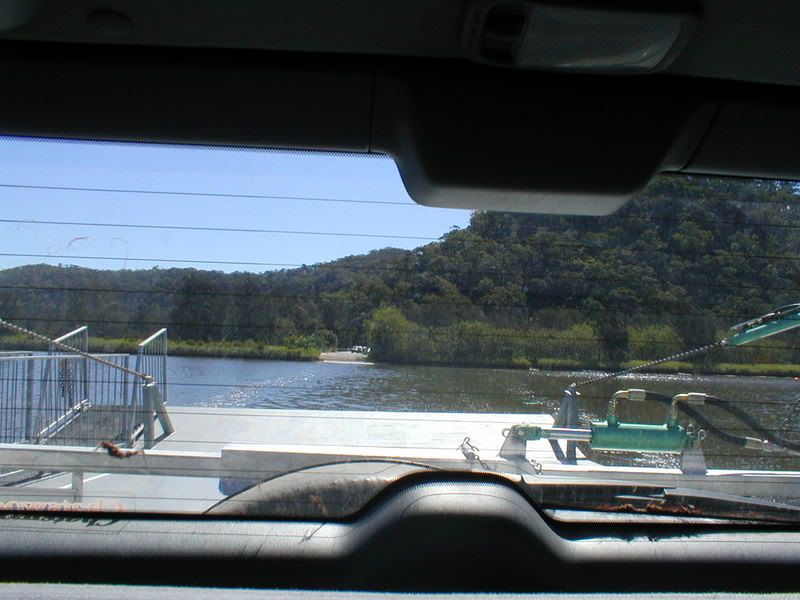 However, the ferry worked fine and we arrived with time to erect Caitlin's travel cot before the proceedings got underway. She took to the cot very well, and slept as well as she does at home.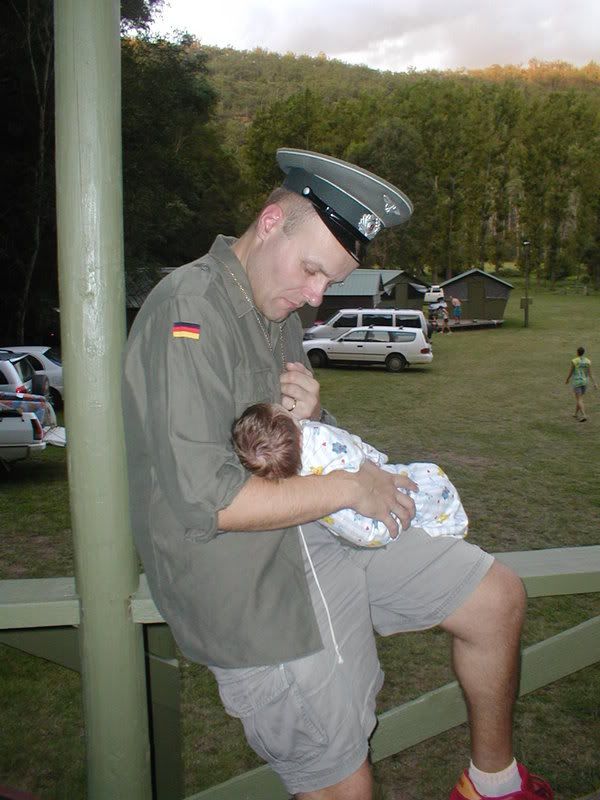 The main run, on Saturday, was best remembered for the
beer stop
at the top of the nearest hill rather than anything else (in fact that's pretty much all there was to the run). However, with the drinks flowing no-one minded too much. Anna successfully managed to make everyone believe that Caitlin was very well behaved by giving her regular top-ups - so much so that more than one person commented that they hadn't heard anything from her all weekend. I think that might have been as much a reflection of their sobriety as anything else, but on the trip home Caitlin slept a little too well, and would hardly sleep at all that night!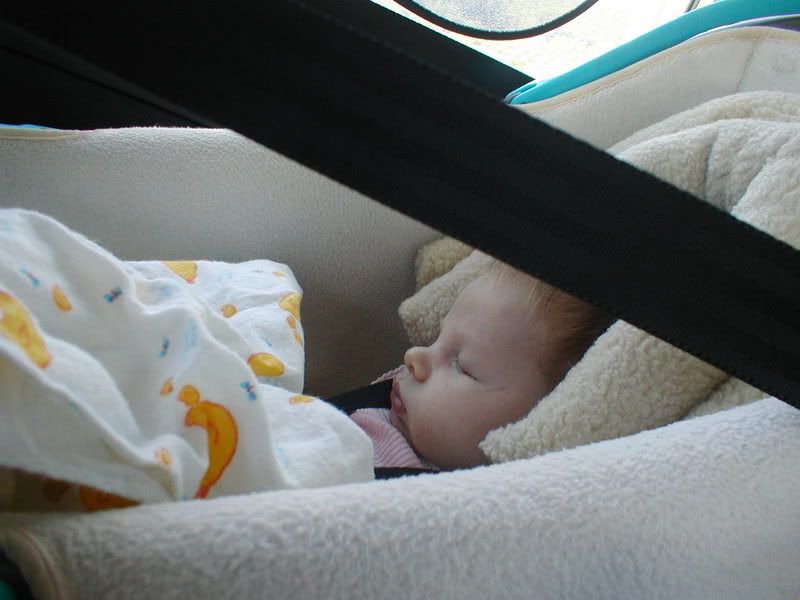 Chris
posted at 9:32 pm 0 comments
Friday, March 04, 2005
Packing!
We're heading off for the annual hash get-together (piss-up is the actual term used), which this year is being held close to
Wisemans Ferry
, around two hours north of Sydney. As this is the first time that we'll be away from home overnight with Caitlin, we're packing almost everything but the kitchen sink (it wouldn't fit). Hopefully everything will go well, but if we should run into any difficulties it's not too far to head home if we need to. For those of you who don't know, Anna & I both have
hash names
, and the theme of the party this year is to
come as your hash name
. I can't imagine why, but some people say that I look a little like the German commandant in Hogans Heroes,
Colonel Klink
, so that's my alias. Anna's is
Morning Glory
, but you'll have to ask her if you want to know why. On on, Colonel Klink
posted at 10:07 pm 0 comments
Thursday, March 03, 2005
Hair Raising?
Anna & I decided to take Caitlin to our local hash run again this evening, which was scheduled to start from
St Leonards
; very close to the hospital she was born in. Unfortunately, the weather (although it's still generally nice at this time of year) delivered a downpour, which delayed us so that we missed the start of the proceedings. However, as always, there were a few people lurking in the local bar rather than doing any exercise, so they joined us for a chat and a drink while we waited for everyone to return. Caitlin was a little less sleepy than she had been last week, so a couple of people were able to give her a cuddle before the hunger pangs kicked in. Following a chat with the current position holder, it looks like I might be back on the committee next year, as the Hare Raiser/Trail Master - as I was working in Canberra for much of this last year, I didn't really fulfil my half of the RA role as much as I would have liked. Chris
posted at 9:47 pm 0 comments
Wednesday, March 02, 2005
Paperwork
More paperwork has appeared over the last couple of days, so we should be full steam ahead on the permanent residency front shortly. The last couple of pieces to arrive were:
My FBI clearance - what they actually sent back was the exact same piece of paper I sent them with my finger/hand-prints, except this time it had been rubber-stamped on the back with

No Arrest Record

; got to love the personal touch.
Caitlin's birth certificate(s) - there is an official version which is rather plain, and we opted to also get a commemorative version which looks a little nicer.
This means we can also now apply for her passport, so that she can visit the UK in May. Chris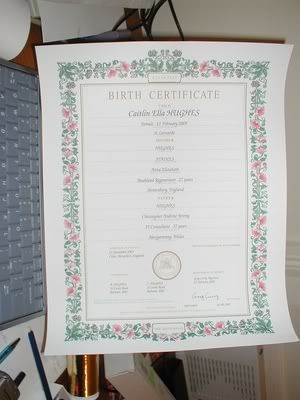 posted at 8:43 pm 0 comments
Tuesday, March 01, 2005
Dydd Gwyl Dewi hapus!
Yes, another March 1st has come around, and here we are in
New South
Wales
. Thanks once again to everyone for your very generous gifts & cards, a couple of which have been arriving each day - the postman's back still seems to be holding up. The pram also arrived yesterday, so Anna put it together before I got home and we took it for a spin to the shop on my return. Caitlin seemed very comfortable as we strolled along Darling Street, but was due a feed by the time we got back home! Finally, I received a note from Reverend Haarhoff confirming that he would be very happy to perform a baptism service for Caitlin on May 15th at Clive church; where Anna & I were married. We'll confirm the details over the coming months, but please save this date in your diaries if you can. Chris
posted at 9:55 pm 0 comments